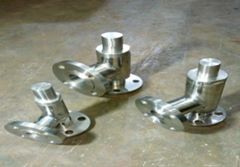 Pressure Safety / Relief Valve :-
 It is a Device which gives safety for any online / pressurize equipment with Chemical or
Steam in which valve will release the excess pressure and will avoid damage to Equipment / Pump / System or Load on Motor .
Valves body tested hydraulically 25% above set pressure and for critical steam usage JEW give Nitrogen tested valves which give 100% Performance Guarantee. Material of Construction Available in S.S. 304/S.S.316, Hast Alloy.
Size from ¼" to 4″ and Pressure Range from 0.5 Kg & up to 300 Bar.
Pressure Safety & Relief valves are manufactured from high quality of the carbon steel, alloy steel, stainless steel.
Our full range of safety relief valves can easily function at high temperatures upto 300°C and set pressure from 2 to 300 Kg /cm2.
Our Expert teams are manufacturers, suppliers and exporters of pressure relief, valve, test filling, pump in Mumbai India to worldwide with client's requirements.
Below are some of its features:
Cost effective
Resistance to general corrosion
High durability
Set Pressure can easily be changed at site as well
Very Low Maintenance
Spring We offer only Mild Steel with PTFE coating only as repeatability is best.
     1/4″, 3/8″, 1/2″, 3/4″, 1″, 1-1/2″, 2″, 3", 4"
0.5  to 300 Kg /cm2.
Offering in Material of Constructions (MOC) :- S.S. 304, S.S. 316, Hastalloy "C", Alloy 20,Poly Propylene, PTFE (Teflon)
END :- SCREWED END,(BSP / NPT) ,  FLANGE END.